If you are getting this error there are a few things to check:
Are you using your trading account login and password and not your client area logins. Client area requires an email address whereas trading platform requires a number e,g 3004…

Are you selecting the correct server (this information will be visible on the email you received when your account was created)

Our passwords are case sensitive, are you correctly using capital and lower case letters?

You are not using any spaces before or after your password

You are only trying to sign into a Valutrades platform

You are not trying to log into a demo account which hasn't been used for 2+ weeks

You are not trying to log into an account that has previously been closed
If you have followed the above and you still cannot successfully login to your trading account. There are a few steps to try:
For Mac users, please check: What Should I Do If I Get 'Invalid Account' message inside my Mac MT4?
Step 1: RESET YOUR TRADING ACCOUNT PASSWORD
Go to the 'my accounts' page

Select the account you are trying to login to and press 'change password'

Chose a new password and update:

Go back to the platform and try signing in with the new password
Step 2: RESCAN THE SERVERS
1. Inside the trading platform on the bottom right hand side there will be a message that says 'invalid account' or 'no connection' and some red lines.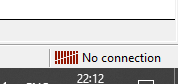 2. Right click on this and chose the option 'rescan servers'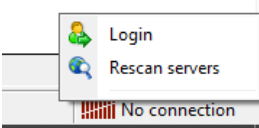 Please note the option to rescan servers usually only appears when the login and password is correct but the server selected is incorrect.
Step 3: UNINSTALL AND REINSTALL THE PLATFORM
1. Find the app on your PC, right click and chose 'uninstall'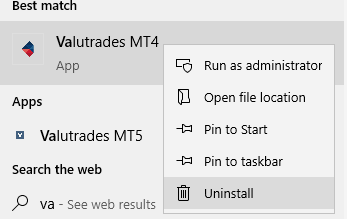 2. Then go to your client area and find the correct download for your account type.
3. Once the platform is installed try logging in with your trading account number, password and correct server
If you are still experiencing issues after following these steps, please contact our support team by email (support@valutrades.com), live chat or telephone (+442031410888)