When logging into your Valutrades client area, you need to enter the following information:
Your registered email address inside "Username"

Your client area password inside "Password".
Please note that the password for your client area might not be the same as your trading account password.
If you get a message saying "bad credentials", this means you have entered the incorrect password or incorrect email address.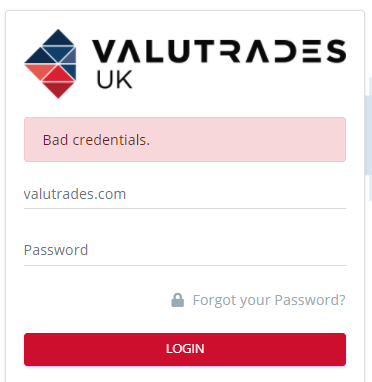 To fix this issue, you can click "Forgot your Password?" (or by using following link: https://client.valutrades.com/login)
This will enable to reset your client area password.
At this link, you will then be asked to enter your registered email address: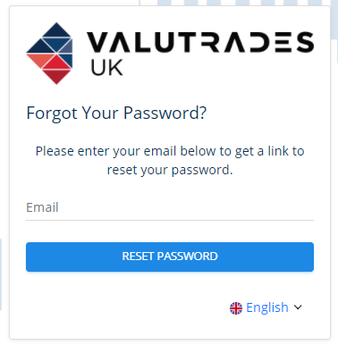 THIS MUST BE THE SAME EMAIL ADDRESS YOU USED TO REGISTER YOUR ACCOUNT.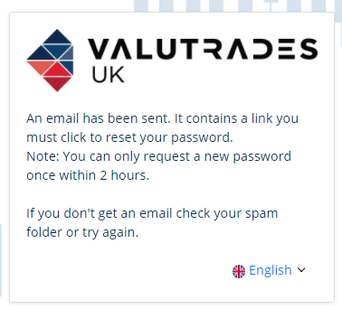 Please note that you can only request a password reset once within 2 hours.


Once completed, please check your email inbox folder for the password reset email (if you cannot see it, please check your spam/junk folder).

Inside the email, you will receive a link that you can use to reset your client area password.

Please click the link and then you can create a new password there.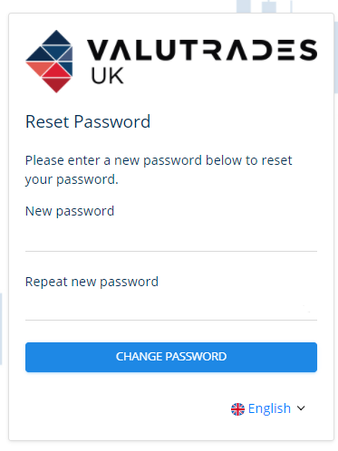 As soon as you have completed it, you can try to login again with the new password.
If you are having issues with your trading account password, please refer to the following articles:
https://faq.valutrades.com/how-to-change-password-on-mt4
https://faq.valutrades.com/en/i-am-getting-the-message-invalid-account-when-signing-into-the-platform-what-should-i-do
If you have any questions about this topic or issues with the password reset, please contact our support team by live chat, email (support@valutrades.com) or phone (+442031410888).