Every client is entitled to 3 x free withdrawals per month. This renews on the 1st of every month.
This applies for your full profile, not per trading account.
If you are on your 4th withdrawal of the month, then you will be asked to confirm a 5% fee.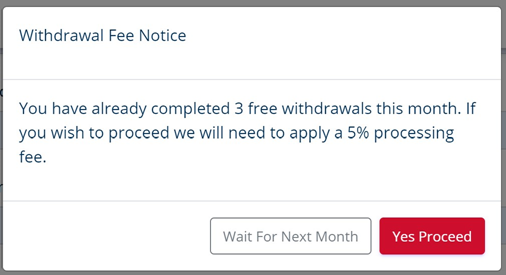 If you are happy to proceed with your withdrawal, please click 'yes proceed'
Our finance team will then process your withdrawal within 24 working hours.
If you are not happy to pay the fee, you can click 'wait for next month.' Your withdrawal will then be cancelled and you can request it on the 1st.
If you have any questions please do not hesitate to contact us by email support@valutrades.com, live chat or phone call +442031410888.